Our Curriculum at Summerfiel
d
If you wish to find out more about the curriculum, you can speak to our class teachers, key leaders or send an email to: office@summerfieldschool.org
At Summerfield, our intent is to have the highest ambitions for all. We are always aware when planning for learning of the widely different needs and starting points of all children, particularly those who are disadvantaged, have Special Educational Needs or Disabilities or those who are more able. All children can learn and make progress and can commit learning of knowledge and skills to long term memory when we:
(i) teach in small steps;
(ii) make sure all pupils have to 'think hard';
(iii) practice through retrieval.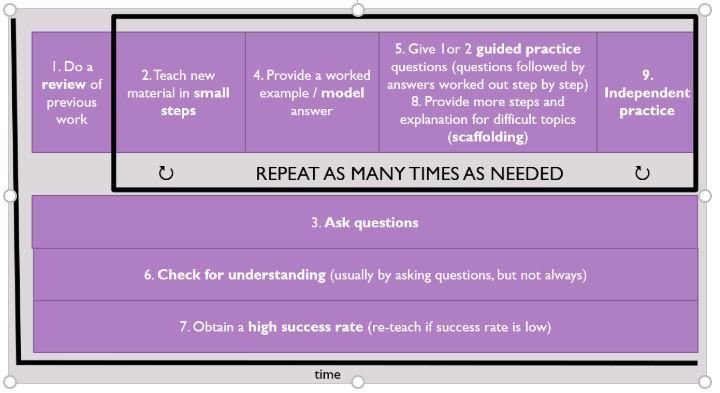 We use Rosenshine's Principles of Instruction to focus our daily, weekly and half termly teaching sequences. The ten principles are a set of common-sense actions that more effective teachers do resulting in students making more progress and achieving better results.
Curriculum Design / Planning
Our curriculum planning is based on the Sonar Curriculum and is planned for and taught in a cross-curricular way via themes. Sonar Curriculum is an online, comprehensive solution to primary curriculum design and comprises a multitude of materials for curriculum mapping, short and medium planning and resources to support the delivery of effective teaching and learning. It provides the robust, rigorous framework which underpins a coherent curriculum design. Through standardised and sequenced objectives across every strand of every subject, skills, knowledge and understanding are deliberately mapped to ensure cumulative fluency across the primary phase. We use the Sonar Curriculum to provide leaders and teachers with a concise framework of coverage, pitch and sequence for writing and for most foundation subjects.
In the first year (2021-22), we will follow the Sonar Curriculum overviews and learning sequences quite rigidly. Revision sessions will be built in whenever a new subject is taught within a half termly theme to revise and assess a cohort's prior knowledge, previously learnt skills and technical subject vocabulary. For example, when a child is taught Art for the first time in Year 3, the teacher will set aside time to uncover any gaps in vocabulary, skills or knowledge relevant to the upcoming Art project and will plan opportunities to diminish any gaps from EY to Year 2 learning before moving on to the Year 3 Art coverage. This 'contextualising of the learning journey' should be constantly referred to throughout the project and should be displayed on theme 'working walls' in the classroom.
The following year (2022-23), when the complete cycle has been taught once, year groups may wish to personalise the learning more to their cohort by choosing different texts, increasing or decreasing the time given to the coverage of certain areas within the learning sequences, etc. The intention then is that by the third cycle (2023-24), teachers will have a strong understanding of the learning journey of all core and foundation subjects from EYFS to Year 6 and beyond and they will then be free to use the Map Maker tool within Sonar Curriculum. The Summerfield Curriculum will reflect the incremental experiences of both children and staff at our school over the previous two years and will be both nuanced and personalised to meet the needs of the whole of our school community in a specific and reflective way.
The Sonar Curriculum provides overviews for Early Years covering the 7 areas of learning: Personal, Social and Emotional Development, Communication and Language, Physical Development, Literacy, Mathematics, Understanding the World and Expressive Arts and Design. This enables teachers to plan effectively to meet the coverage requirements of the National Curriculum and Early Years Foundation Stage Framework and is a starting point for subject leaders to use when monitoring and evaluating their focused subject.
Sonar Curriculum planning covers Writing, some elements of Reading, Science, Art and Design, Computing, Design and Technology, Geography, History and Music. As detailed later on in this section, we use the White Rose Hub planning for Maths, Accelerated Reader to support our reading programme, Jigsaw to teach PSHE and RSE learning, Purple Mash to support Computing, MKSP planning for PE, Charanga for Music and Linguafun to support the teaching of Spanish in Years 1 and 2, German in Years 3 and 4 and French in Years 5 and 6.
The half termly Learning Sequences are used to make sure coverage is broad and balanced across every year group. These are used then to inform Half Termly Theme Pacing Grids. The pacing grids sit below the teaching sequences and allow for teaching teams to map out the expectations of a half term across the six weeks in a useful and logical way. For example, if the main driver of a theme is History, teachers may need to teach a lot of the historical knowledge early on so that the rest of the cross-curricular learning has context.
(This information is taken from the Teaching, Learning and Assessment Policy – September 2021)